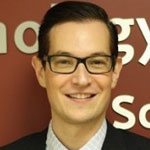 OHTN Applied HIV Research Chair
Trevor Hart works to develop and test sex-positive, anti-oppressive HIV prevention interventions and psychotherapies for gay, bisexual and other men who have sex with men. His work is both community-based and clinical and relies on a health promotion framework.
Research Findings:
Analysis of the pilot study of the Gay Poz Sex intervention for HIV-positive gay and bisexual men suggests that this program helps men reach their sexual health goals and reduces incidents of condomless anal sex with HIV negative and unknown status partners. Significant reductions were also observed in self-reported loneliness and sexual compulsivity. This program is currently being studied in a randomized controlled trial study in Toronto and Vancouver.
Findings from the Sexual Health and Attitudes Research Project (SHARP) indicate that experiences of early life adversity, in particular verbal bullying by peers and physical abuse by adults, contribute to high-risk sexual behaviour among gay and bisexual men through their effects on current syndemic problems, including depression, polysubstance use and intimate partner violence.
In a multisite cohort study of over 1,300 gay and bisexual men in the United States, Trevor Hart and colleagues showed that depression predicts subsequent sexual dysfunction in both HIV-positive and HIV-negative men. The relationship between depression and sexual dysfunction was occurred due to antidepressant use, stimulant use, and tobacco smoking.
Current Projects:
Engage Team: A Canadian research and intervention team on gay and bisexual men's health – Trevor Hart leads a team of over 40 researchers across the country who are collaborating on a 5-year project, which includes training new researchers in HIV research, developing new HIV prevention programs, and implementing a national multisite mixed-methods cross-sectional study of the sexual and mental health of gay, bisexual and other men who have sex with men.
Gay Poz Sex – Trevor Hart and his colleagues continue to evaluate this program for HIV+ gay and bisexual men with studies in both Toronto and Vancouver. They aim to document its usefulness in supporting men's sexual health and reducing HIV transmission.
Project Pride – The development and testing of a stress management and coping program for young gay and bisexual men to help reduce HIV risk behaviours.
The Sexual Confidence Study – The development and testing of a counselling program for social anxiety, which may address some syndemic factors associated with HIV risk.
The Gay Strengths Study – Interviews and surveys with HIV negative gay and bisexual men explore the factors that protect men against risky sexual behaviour and promote their sexual health. It may help shape future sexual health promotion programs.
Work Environment and Collaborations:
Trevor Hart is a Professor of Psychology at Ryerson University where he leads the HIV Prevention Laboratory. He is a member of the OHTN Board and a Universities without Walls contributor. He works collaboratively with other OHTN research leaders in gay men's health including Director of Prevention Research, Barry Adam, and Applied HIV Research Chair, David Brennan.
OHTN Support:
Trevor Hart holds an OHTN Applied HIV Research Chair ($750,000; 2014-2019). He is team lead for HIV Prevention for Gay and Bisexual Men, a multisite study co-funded by OHTN, CANFAR and CIHR (1.5 million; 2015-2020) and has operational funds for Gay Poz Sex ($157,237; 2015-17).
First funded by OHTN as a principal investigator in 2008.
Video Lectures and Interviews