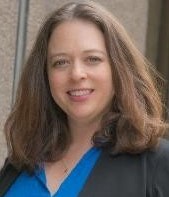 Director, Applied Epidemiology Unit
Abigail Kroch is applied epidemiologist with experience in academic, government and non-profit settings. Her work focuses on translating epidemiological data for use in program planning, policy making and to support community engagement.  At the OHTN, she uses provincial data sources to describe the HIV epidemic in Ontario, and develops KTE products directed at government, community, and clinical stakeholders. She supports the planning, implementation and evaluation of programs and interventions to improve the provincial HIV prevention, engagement and care cascade.
Current Projects
OHESI (the Ontario HIV Epidemiology and Surveillance Initiative) integrates information about HIV infections and health outcomes from multiple public health sources in Ontario. It is a partnership between the AIDS Bureau, Public Health Ontario, OHTN, and the Public Health Agency of Canada. This data will be made available through the OHESI website and will be used to inform the planning of prevention programs and health services for HIV+ people in Ontario.
HIV Engagement and Care Cascade – This research explores the barriers that prevent people living with HIV from participating in ongoing HIV care and, in particular, how social drivers of health, influence people's access to care. OHTN scientists, Beth Rachlis and Abigail Kroch, are working to identify the most useful ways to measure engagement in health care, and to create interventions that improve retention in care.
Work Environment and Collaborations:
Abigail Kroch is an epidemiologist with extensive experience working with public health data systems and conducting analyses to understand and address health inequities. Through OHESI, she works with multiple public health partners to monitor the HIV epidemic in Ontario through the more effective use of public health data systems. She and her OHESI colleagues work to share this information with community agencies, health planners and other researchers in a timely and useful way.
Abigail Kroch also works with other OHTN scientists including Beth Rachlis, Sean Rourke and Winston Husbands to support a range of activities relating to the cascade and supporting the provincial strategy for Ontario.
OHTN Support:
Abigail Kroch holds an OHTN staff position as Director of Applied Epidemiology.