Join us for a discussion about HIV in Indigenous communities, Reconciliation, and health research.
Thursday, June 29 2017. 6:00 to 7:30PM at Glad Day Bookshop 499 Church St., Toronto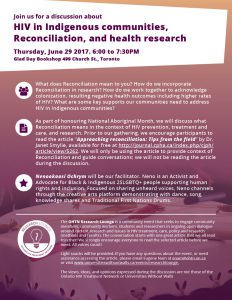 What does Reconciliation mean to you? How do we incorporate Reconciliation in research? How do we work together to acknowledge colonization, resulting negative health outcomes including higher rates of HIV? What are some key supports our communities need to address HIV in Indigenous communities?
As part of honouring National Aboriginal Month, we will discuss what Reconciliation means in the context of HIV prevention, treatment and care, and research. Prior to our gathering, we encourage participants to read the article "Approaching reconciliation: Tips from the field" by Dr. Janet Smylie. We will only be using the article to provide context of Reconciliation and guide conversations; we will not be reading the article during the discussion.
Nenookaasi Ochrym will be our facilitator. Neno is an Activist and Advocate for Black & Indigenous 2SLGBTQ+ people supporting human rights and inclusion. Focused on sharing unheard voices, Neno channels through the creative arts platform demonstrating with dance, song, knowledge shares and Traditional First Nations Drums.
---
The OHTN Research Lounge is a community event that seeks to engage community members, community workers, students and researchers in ongoing open dialogue around current research and issues in HIV treatment, care, policy and research (methods and results). The conversation starts with one great article that we all read together! We strongly encourage everyone to read the selected article before we meet. All voices count!
Light snacks will be provided. If you have any questions about the event, or need assistance accessing the article, please email Eugene Nam at enam@ohtn.on.ca or visit the UWW website.
The views, ideas, and opinions expressed during the discussion are not those of the Ontario HIV Treatment Network or Universities Without Walls