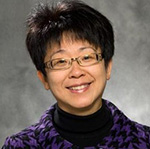 Team Grant Leader; OHTN CIHR New Investigator
Josephine Wong works with youth and adults in diverse communities to understand how individual factors (beliefs, knowledge) and societal factors (racism, poverty, homophobia, sexism, social exclusion) interact to produce increased vulnerability and put marginalized communities at higher risk of infection with HIV and other sexually transmitted infections.
Why OHTN is supporting the development of this investigator:
Ontario's HIV/AIDS Strategy to 2025 will foster provincial policies and programs to promote health and resilience in the populations most affected by HIV and to address HIV stigma within those communities. This investigator will help expand our capacity to understand the needs in these communities and to create appropriate support and prevention programs.
Josephine P. Wong's Current Projects
Community Champions HIV/AIDS Advocates Mobilization Project (CHAMP) – engages people living with HIV and community faith, media and social justice leaders in the African, Caribbean, Asian and Latino communities to understand the roots of HIV stigma and apply evidence informed strategies to reduce internalized and enacted stigma in these communities. The study results will contribute to implementation science and used to inform the development of integrated programs through community collaboration to reduce HIV stigma.
weSpeak: Reducing HIV vulnerabilities and promoting resilience among self-identified heterosexual African, Caribbean and Black (ACB) Men in Ontario study – this 5-year research program aims to reduce HIV vulnerabilities and promote resilience among self-identified heterosexual ACB men. It will use innovative strategies to enhance ACB men's appreciation of the conditions that help HIV to spread, promote their commitment to HIV prevention, and strengthen community networks to end HIV and reduce health inequity in ACB communities.
Supporting the Supporter (STS) – this pilot study assesses the effectiveness of STS-Resilience, a newly developed peer-based and resilience-based capacity building intervention that aims to promoting resilience and sustainable empowerment of PHA in service provider roles.
Work Environment and Collaborations:
Josephine P. Wong is an Associate Professor in the Daphne Cockwell School of Nursing at Ryerson University and Adjunct Professor in the Dalla Lana School of Public Health at University of Toronto. Her approach to research is community-based and much of her HIV research is conducted with the Committee for Accessible AIDS Treatment and other ASOs serving racialized and newcomer communities. She works closely with OHTN Policy and Practice Leader, Alan Li, to translate research results into programming and policy.
OHTN Support:
Josephine Wong holds an OHTN CIHR New Investigator Award ($300,000; 2013-2018). She is team lead for the "Reducing HIV vulnerabilities and promoting resilience among self-identified heterosexual African, Caribbean and Black (ACB) Men in Ontario study" co-funded by OHTN and CIHR (1.5 million; 2015-2020). First funded by OHTN as a principal investigator in 2013.
Video Lectures and Interviews with Josephine Wong