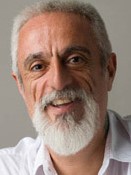 Director, Education and Training
Francisco Ibáñez-Carrasco's research focuses on HIV research and online dissemination, teaching and learning to maximize the involvement of all research stakeholders especially people living with HIV. He also conducts research on HIV as an episodic disability in the context of rehabilitation, mental health and HIV and ageing and HIV. Francisco has lived with HIV since 1986.
Recent Research Findings
 Francisco Ibanez-Carrasco's research publications
Current Projects
Universities Without Walls (UWW), a unique interdisciplinary eLearning program to disseminate program science and community based health research practices and promote collaborative approaches to HIV research and learning. UWW is the education and training arm of the OHTN and the Centre for REACH 2.0 Some of its activities include an online talk show for peer researchers and a continuing education course at University of Ontario Technology Institute.
The HIV, Health and Rehabilitation Survey is a national online survey study that aims to create a comprehensive profile of the range of health conditions experienced by people with HIV in Canada. It investigates the health-related challenges people experience (disability) and the rehabilitation services they use in developing a strategy for living with and dealing with disability.
"HEADS UP!" is a community based research project exploring the lived experiences of people with HIV-associated neurocognitive disorder (HAND). It focuses on stories of how people cope with HAND, as well as the factors that empower them and allow them to be resilient in dealing with this health issue.
OHTN Support:
Dr. Francisco Ibáñez-Carrasco holds an OHTN staff position as Director of Education and Training. He is an adjunct Lecturer at the Department of Rehabilitation, University of Toronto and an Adjust Professor at the Department of Anthropology, University of Manitoba. He serves in the Scientific Committee of the Canadian Working Group on HIV and Rehabilitation.
Video Lectures and Interviews